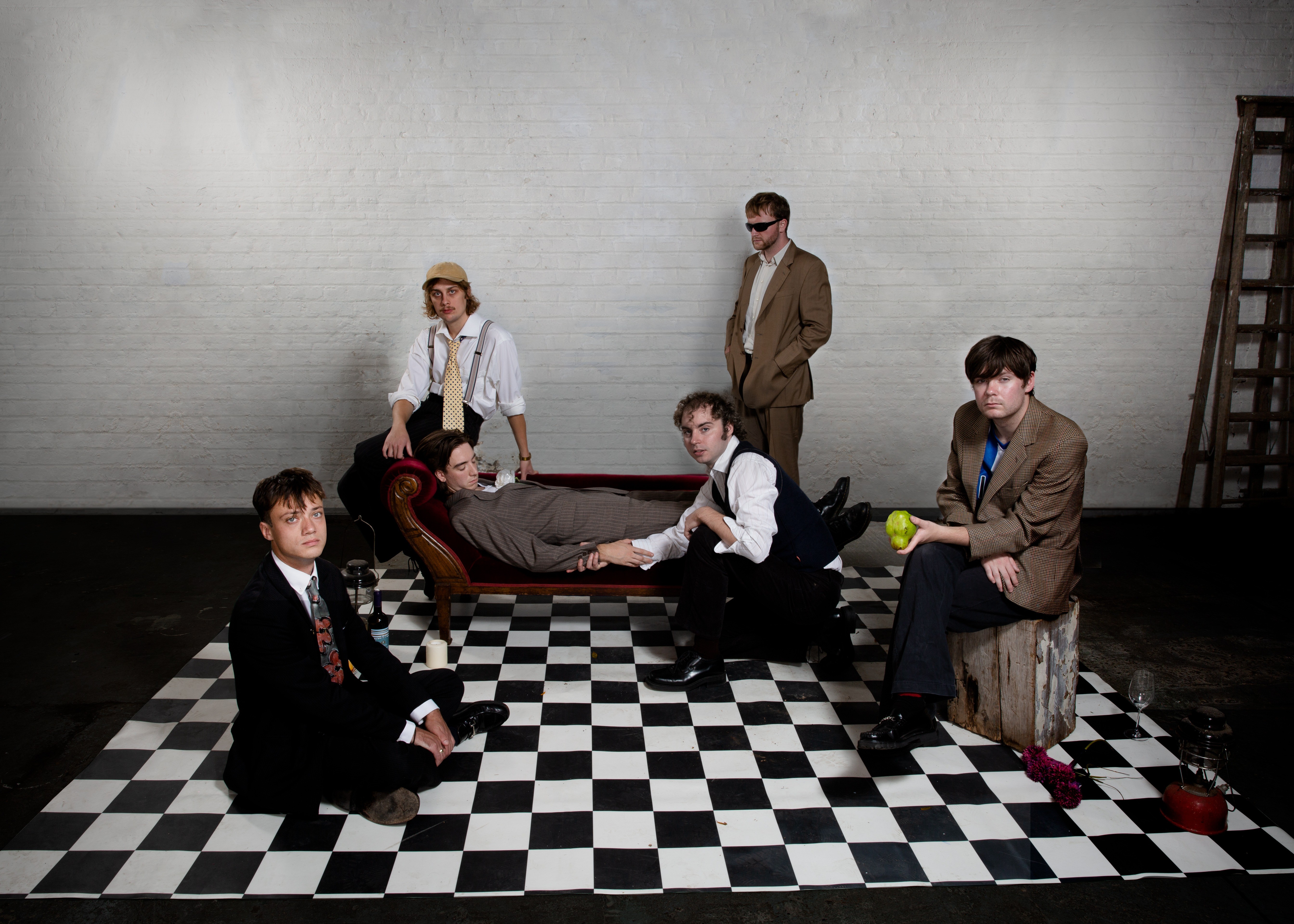 Hotel Lux - Nice Swan Recordings
Availability: Netherlands
About Hotel Lux
Once contenders for the mantle of Britain's most self-conscious band — guilty, by their own admission, of pandering to audiences' tastes following their move from Pompey to London — Hotel Lux have crafted an identity that is truly their own on bold debut album 'Hands Across The Creek'.
Early, clattering pub-rock singles had received widespread acclaim, but "there was always that little voice in your head," says bassist Cam. The anxieties were hardly quelled when the band's big break in America proved a non-starter in 2020 after SXSW Festival was cancelled. The announcement came just as Hotel Lux completed the fundraising incentives for their planned appearance in the wake of the 'Barstool Preaching' EP release. "We were gutted," vocalist Lewis Duffin remembers.
Lewis and Cam, alongside guitarist Sam Coburn, drummer Craig MacVicar, and new members Max Oliver (guitar) and Dillon Home (organ; violin), were left stumped: "it was the most fragile we've been", says Cam. With touring off the cards, the dream of releasing an album was what kept them going – even though it took "a long time" and "a lot of arguments" before they settled on a sound to call their own. "Craig and Sam got hooked on ESG," Lewis explains — referring to the '80s NYC post-punk band known for their funky rhythms and simple refrains. "I hated that. It was doing my head in."
But with new guitarist Max (of fellow South London band LEGSS) bringing a "harsher, more tone-y Telecaster sound" with him in 2020, the roots of Hotel Lux's transformation were soon in place. The band's classic influences — Dr Feelgood, The Stranglers and Ian Dury — meshed with the sounds of artists like Neil Young, Brian Eno and The Waterboys, and, in the end, Hotel Lux found themselves "doing the whole 'haha, that's what the fourth album will sound like' thing" on their first, says Cam.
They decamped to The Wirral, near Liverpool, with Bill Ryder-Jones (The Coral; Arctic Monkeys) as multi-faceted influences, £20 Casio keyboards and marauding song structures fell into place. Lead single 'Common Sense' was influenced by '80s pop-rock group the Beautiful South and inspired by the RMT strikes, trade union leader Mick Lynch, and the media's treatment of Jeremy Corbyn. It's a rhythmic anthem full of funk bass, machine gun snares and clattering guitars reminiscent of Television or Glasgow indie icons Orange Juice – and is the band's most euphoric and danceable single to date.
There are great stories elsewhere: 'Eastbound and Down' headlines fat salaries, three-piece suits and Windsor knots ("I remember seeing all the Canary Wharf types in their dodgy suits, and thinking maybe I should have done that," says Lewis). Opening track 'Old Timer' is sing-a-long gold, with key lyric "I only saw my Dad cry once and that was at the football," referencing the 2008 FA Cup Final that a ten-year-old Lewis attended with his skinhead father. And tender and melodic highlights 'Morning After Mourning', 'Easy Being Lazy' and 'An Ideal For Living' showcase the band at their emotive, dynamic best – a far cry from the laddy, Stella-guzzling sounds they were first known for.
Since the recording was completed, Hotel Lux have already found some vindication: they managed to make it to SXSW this year, after being invited back by the organisers. Now, with 'Hands Across The Creek' set for release in early 2023, Hotel Lux look set to become something their early critics might have not foreseen: a band full of confidence, with the ability to transcend their peers and carve out their own corner of the British music tapestry. "It feels really important," Lewis concludes. "We spent a lot of time worrying